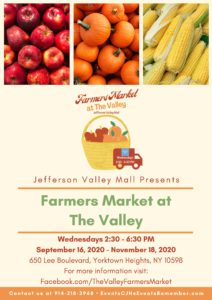 The Farmers Market at The Valley will be launching their inaugural fall season at the Jefferson Valley Mall on Wednesdays from 2:30pm-6:30pm starting on September 16th until November 18th outside the Jefferson Valley Mall located at 650 Lee Boulevard in Yorktown Heights, NY. The market hosted by the Jefferson Valley Mall and managed by Events To Remember, will provide fresh produce along with other local goods for the greater Yorktown community.
"We look forward to hosting the Farmers Market at The Valley here at the Jefferson Valley Mall," said Heather Novak, Marketing Director of the Jefferson Valley Mall. "With the Fall season right around the corner we are thrilled to be partnering with Events To Remember to bring a variety of local vendors along with fresh food options to our local community! We feel this will be especially convenient for the young families and seniors who are still looking for safe and fresh local shopping options."
"Events To Remember is once again excited to partner with the Jefferson Valley Mall to manage the Farmers Market at The Valley," said Chereese Jervis-Hill, President and Founder of Events To Remember. "During this pandemic we are ready to safely deliver healthy food and goods to the residents in the greater Yorktown community while providing a safe and enjoyable experience for our shoppers and vendors."
A wonderful mix of farmers and local vendors will be in attendance throughout the season, which will include fresh fruits and vegetables, pickles, delicious Middle Eastern cuisine, soaps, and much more. In response to the COVID-19 pandemic and in accordance with the rules set forth by New York State, social distancing guidelines will be in place to ensure the health and safety of all shoppers and vendors in attendance, with face masks being a requirement. For more information about this year's Farmers Market at The Valley and/or how to participate, please visit www.Facebook.com/TheValleyFarmersMarket or contact Chereese Jervis-Hill at (914) 218-3968 or via email at EventsCJH@EventsRemember.com.