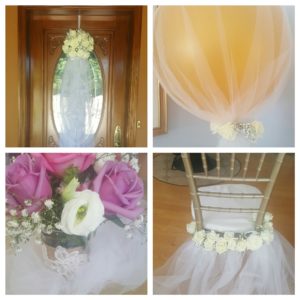 There's nothing like new love! We had the pleasure of assisting one of our long time friends  and client with the Decor Design for her soon to be daughter-in-law. She expressed that she wanted something very simple, yet very elegant.  We put on our creative hat, and came up with some simple but beautiful touches.  Check them out below:
A) The beautiful floral piece for the front door really set the tone, and it screams Bridal Shower all over it.
B) Super jumbo balloons (32″) covered with fresh roses to give the room a fun festive feel and helped fill in the space nicely.
C) We used a mason jar, applied beautiful pieces of lace, and added more roses.
D) Lastly, my favorite piece, the special seat for the bride to be.
At Events To Remember, we spend most of our days working on Corporate, Community and Fundraising events.  We love it when we get to put on our creative hats and work on something pretty.  We hope you enjoy these ideas, and incorporate them into your "New Love" occasions.
Love, Chereese Jervis-Hill,
President & Founder, Events To Remember
www.EventsRemember.com