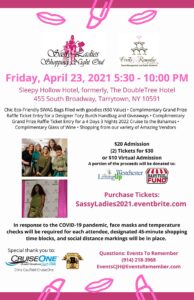 Sassy Ladies Shopping Night Out is celebrating 10 years! Join us at our 10th Annual Sassy Ladies Shopping Night Out event on Friday, April 23, 2021, from 5:30 pm-10:00 pm at the Sleepy Hollow Hotel (formerly known as the Doubletree Hotel) in Tarrytown, NY. In light of the ongoing pandemic, we will be incorporating health and safety measures for all attendees which will include face masks, temperature checks, social distancing markings, and implementing designated time blocks for our attendees to shop and enjoy the evening.
This year a portion of the proceeds will be donated to Lifting Up Westchester and The Barstool Fund. Lifting Up Westchester is a not-for-profit with the mission of restoring hope to Westchester County's men, women, and children in need by providing them with food, shelter, and support, lifting them to greater self-sufficiency with dignity and respect. The Barstool Fund is a fundraising nonprofit launched by Barstool in response to the COVID-19 pandemic, helping to provide financial support to small business owners throughout the United States.
Purchase your tickets here and don't miss out!