Are you gearing up for your fall fundraiser?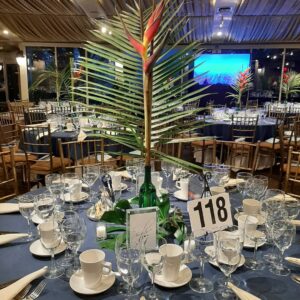 Yes, it's August, and you know what that means… Labor Day will be here before you know it, so use this time wisely. I'm sure your fall fundraising plans are underway, and I wanted to share a few tips to consider, so you will shine like the Rockstar you are!
1) I hate to say the word we are all so sick of, but it must be said COVID-19. Plan for COVID-19 precautions like masks, social distancing, and a virtual component with online fundraising; If you don't have to use these precautions, that's great, but it's always better to be prepared.
2) Start and end with your goals; this will keep you grounded and keep you on task.
3) Take some time to come up with a plan to set your event apart from other organizations, and be ready to tell the world about your event via event promotion and social media to create that FOMO (fear of missing out) effect.
4) Tell your story! You have a room or screen full of people that took the time to celebrate with you. Show them all of the good your organization is doing in the community. Every person should leave your event empowered by the work you're doing.
5) Last but not least, remember that time is your friend – make sure you're giving yourself enough planning time. Events are very time-consuming, give yourself as much time as possible and delegate where you can and most importantly, have fun in the process, and shine bright like the Rockstar you are!
I wish you the best of luck!
Chereese Jervis-Hill, President & Founder
About Events To Remember and PR To Remember: Events To Remember (ETR) has achieved amazing success over the past decade as Westchester County, New York's leading live and virtual event management and public relations firm. ETR specializes in conceptualizing, organizing, managing, marketing, and publicizing for entrepreneurs, not-for-profit organizations, municipalities, and small to mid-size corporations, helping them manage their events and tell their stories with our PR campaigns. ETR focuses on corporate, community, fundraising galas and benefits, trade shows, and social events. In short, we create lifetime memories and experiences that allow our clients to thrive.